Advent is a time of waiting. It is a wonderful
time of the year. This is the time that God the
Father decided to send His only Son to us, through
Mary.

Can you imagine how Mary must of felt, when the
Archangel Gabriel told her that she would be the
mother of God.

What would we feel like if that happened to us?
Anxious, afraid, wondering what people would
think. She did not even know who she was going to
marry.

Thank God Mary did not hesitate because if she
had, we would never be able to obtain heaven.

St. Joseph also had a very big role in this, which
we so often forget. He could have left and said
no way am I going to marry someone that is already
with child. Instead he trusted God and followed
through with his heart.

We should also follow through. Trusting in God's
plan for us.

Christmas should really be Jesus birthday. We
should be thanking God the Father for allowing
Jesus to be born. Without Jesus we would never see
God.

Could you not spend some time at Christmas in
front of the Blessed Sacrament and thank Him for
all the things that He has given you. We should be
very thankful to Him. WIthout Him we are nothing
and have nothing. With Him we have everything we
need for eternal life.
A SPIRITUAL CHRISTMAS CRIB

The following directions show you how to build a
spiritual crib in your heart for Christ.
Use it to put Christ into your Christmas in a real,
living way.

Start on December 1. Read the thought indicated
about Christ's first crib.
Practice it during the day. Do this daily during
December and make your heart a worthy crib for
Christ on Christmas Day.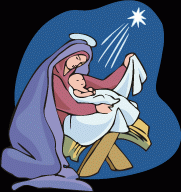 DEC.1 - THE STABLE
Frequently during the day offer your heart to the
little Infant Jesus. Ask Him to make it His home. -
Sweet Jesus, take my heart and make it meek and
pure.

DEC.2 - THE ROOF
See that the roof of the stable is in good
condition, so that the Infant Jesus is protected
from rain and snow. This you will do by carefully
avoiding > every uncharitable remark. --Jesus,
teach me to love my neighbor as myself.

DEC.3 - CREVICES
Carefully stop every crevice in the walls of the
stable, so that the wind and cold may not enter
there. Guard your senses against temptations. Guard
especially your ears against sinful
conversations.--Jesus, help me to keep
temptations out of my heart.

DEC.4 - COBWEBS
Clean the cobwebs from your spiritual crib.
Diligently remove from your heart every
inordinate desire of being praised. Renew this
intention at least three times today. --My Jesus,
I want to please You in all I do today.

DEC.5 - FENCE
Build a fence about the crib of your heart by
keeping a strict watch over your eyes, especially
at prayer. --Sweet Jesus, I long to see You.

DEC.6 - MANGER
Fix the best and warmest corner of your heart
for the manger of Jesus. You will do so by
abstaining from what you like most in the line of
comfort and amusement. --Mary, use these
sacrifices to prepare my heart for Jesus in
Holy Communion.

DEC.7 - HAY
Supply the manger of your heart with hay, by
overcoming all feelings of pride, anger or envy.
Jesus, teach me to know and correct my greatest
sins.

DEC.8 - SOFT STRAW
Also provide your manger with soft straw by
performing little acts of mortification; for
instance, bear the cold without complaints; or sit
and stand erect. --Dear Jesus, Who suffered so
much for me, let me suffer for love of You.

DEC.9 - SWADDLING CLOTHES
Prepare these for the Divine Infant by folding
your hands when you pray, and praying slowly and
thoughtfully. --Jesus let me love you more and
more.

DEC.10 - BLANKETS
Provide the manger of your with soft warm
blankets. Avoid harsh and angry words; be kind and
gentle to all. --Jesus, help me to be meek and
humble like You.

DEC.11 - FUEL
Bring fuel to the crib of Jesus. Give up your own
will; obey your superiors cheerfully and
promptly. --Jesus, let me do Your will in all
things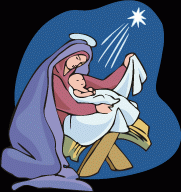 DEC.12-WATER
Bring fresh clean water to the crib. Avoid every
untruthful word and every deceitful act.
--Dearest Mary, obtain for me true contrition for
my sins.

DEC.13 - PROVISIONS
Bring a supply of food to the crib. Deprive
yourself of some food at mealtime or candy as a
treat. --Jesus, be my strength and nourishment.

DEC.14 - LIGHT
See that the crib has sufficient light. Be
neat and orderly about your person; keep
everything in its place in your room. --Jesus, be
the life and light of my soul.

DEC.15 - FIRE
Take care to have the crib of your heart warmed
by a cozy fire. Be grateful to God for the love He
has shown us in becoming man; behave with grateful
respect towards your parents and relatives. --
Jesus, how can I return Your love; how can I show
my gratitude to You?

DEC.16 - THE OX
Lead the ox to the crib. Obey cheerfully without
making excuses and without asking "why." --I will
obey for love of You, Jesus.

DEC.17 - THE DONKEY
Bring the donkey to the crib. Offer to the Divine
Infant your bodily strength; use it in the service
of others. --Jesus, accept my service of love;
I offer it for those who do not love You.

DEC.18 - GIFTS
Gather some presents for the Divine Infant and
His Blessed Mother. Give alms for the poor and say
an extra decade of the rosary. --Come, Jesus, to
accept my gifts and to take possession of my heart.

DEC.19 - LAMBS
Strive to bring some little lambs, meek and and humble of heart, make my heart like Yours.

DEC.20 - SHEPHERDS
Invite the shepherds to pay homage to our newborn
King. Imitate their watchfulness; stress in your
speech and thoughts the idea that Christmas is
important because Jesus will be born again in
you.
Jesus, teach me to love You above all things.

DEC.21 - THE KEY
Provide the stable with a key to keep out
thieves. Exclude from your heart every sinful
thought, every rash judgment --Dear Jesus, close
my heart to all that hurts you.

DEC.22 - ANGELS
> Invite the angels to adore God with you.
Cheerfully obey the inspirations of
your guardian angel and of your conscience. --
Holy Guardian Angel, never let me forget that You
are with me always.

DEC.23 - ST. JOSEPH
Accompany Saint Joseph from door to door. Learn
from him silently and patiently to bear refusals
and disappointments. Open wide your heart and beg
Him to enter with the Blessed Virgin Mary.
--Saint Joseph, help me to prepare for a worthy
Christmas Communion.

DEC.24 - THE BLESSED VIRGIN
Go meet your Blessed Mother. Lead her to the
manger of your heart and beg her to lay the
Divine Infant in it. Shorten your chats and
telephone conversations and spend more time today
thinking of Jesus and Mary and Joseph.
--Come, dear Jesus, Come; my heart belongs to You.

"Devotions in Preparation for the Coming of the
Christchild, and at the Crib, from Christmas to
Purification"

by Rev. Frederic Nelson, published by Marian
House, Powers Lake, ND 58773
CHRISTMAS PRAYER
By Dorothy Glinski

Jesus, You came to us, on this the most holiest of
nights, to show us the way to your Heavenly Father.

Grant us the grace to be more helpful, to our
fellow man.

The compassion to understand other peoples
problems and fears.

The realization, that everyone needs to be loved,
the homeless, the rich, the poor, the old, the
middle age, and the young.

HAPPY BIRTHDAY JESUS

CHRISTMAS LITANY
By Dorothy Glinski

Mary, you said yes to the Angel Gabriel
Thank You
St. Joseph, you said Yes to God the Father and
accepted Mary as your wife.
Thank You
Mary and Joseph the way to Bethlehem was hard and
long.
Thank You for going
Mary and Joseph you were refused by the innkeeper
Thank You for perservering
Thank You God for giving us Your Only Son that
first Christmas Night so that we could obtain
heaven.

God the Father, we love You with all our heart,
Please protect, watch over and guide us throughout
all our undertakings.

Jesus, you were born to save us from Original Sin
Thank You
Merry Christmas God the Father and Holy Family
Thank You so much for everything.
ST. ANDREW
PRAYER TO OBTAIN FAVORS

Hail and blessed be the hour, and moment in which
the son of God was born of the most pure Virgin
Mary, at midnight, in Bethlehem, in piercing cold,
In that hour vouchsafe, O my God! To hear my
prayer and grant my desires, through the merits of
Our Savior Jesus Christ, and of His Blessed
Mother. Amen

(It is piously believed that whoever recited the
above prayer fifteen times a day from the feast of
St. Andrew November 30 until Christmas will obtain
what is asked.
PRAYER TO ST. ANDREW
We humbly beseech Thy Majesty, O Lord, that as the
blessed Apostle Andrew, was once a teacher and
ruler of Thy Church, so he may ever be our
advocate with Thee. Through our Lord, Jesus
Christ. Amen

O Christ, our Lord, Who didst beautify the most
blessed Andrew with the grace of apostleship, and
the crown of martyrdom, by granting to him this
special gift, that by preaching the mystery of the
cross, he should merit death on the cross; grant
us to become most true lovers of Thy holy cross,
and denying ourselves, to take up our cross and
follow Thee; that by sharing Thy sufferings in
this life, we may deserve the happiness of
obtaining life everlasting. Amen
May God wrap you in His Arms today and give you strength. Father in Heaven through the mystical wounds of Your Son Jesus have mercy on the souls who visit my web pages. Whoever visits this site is automatically prayed for night and day as long as I live God knows who you are and He will apply your petitions. My motto is I will not let the devil have my family, or any family. My soul or any soul, if I can prevent it, through prayer, sacrifice and pain and despair. I will fight the devil tooth and nail, till I take my last breath and then fight him from heaven for souls here on earth.